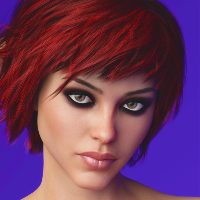 Hi Slushe's users !
We are two friends, Jay & Lisa.
Jay play with 3d since about 2 years now. And me ( Lisa ) I ask him last year to scan my face, to try new haircuts on 3d renders. Then I ask him to scan me totally. Since then, I regulary pose for him.
So the female with red hair you will see here, it's me ( well the face is not totally me, for evident privacy issues :) but that's my body, and skin )
Recently we have 3d scanned Jay body, and we have now a world of nice and kinky opportunities to try ! We are already on Deviantart, but we are now posting our dirty pics here ! 
So let's play ! Hope you will appreciate our work !
Lisa !