Development Update #18
May 09, 2020
*Media highlight by artist Olympus3DX
Hello Slusheans! Last Friday we introduced some new site features and site fixes to Slushe, which you may have already discovered yourselves while browsing. With this update we've made a couple of big changes, which we hope you'll find useful and enjoyable. Without further ado, let's dive into the nitty gritty details.
NEW SITE FEATURES UP UNTIL MAY 9TH
SEARCH RESULTS PAGE - NEW DESIGN
From now on the search results page shows results for posts and artists. We've redesigned the page so that it contains 3 sections: All - Artists - Posts, which gives you the choice to browse for either artists, posts or both at the same time. The Artist section and Posts section have their own filters, which work independently from each other.
Artist Filters
The Artists section uses the same filters from the Artists page, just with an updated design.
Sort By - sort artist search results according to artists' join date, popularity or by name.
Available For Work - find artists who are available for commissions, freelance work, full-time or part-time work, and projects.
Media Type - find artists who work with 3D or 2D art, animation or games.
Posts Filters
The Posts section uses the same filters from the old search results page with a new design.
Sort By - sort post search results according to most recent, most viewed, most liked and featured posts.
Filter Content - find posts with the straight, gay / lesbian, dickgirl / futanari or trans content.
Categories - find posts that are assigned a certain category like big dick, big tits, big butt, etc.
Special mention: tags
There are plans to expand the search results page with a tag filter, but this will take some more time to implement. In the meantime, same as always, it is possible to search posts based on tags by clicking on a tag inside of a post. By doing so, the search results page will show only posts that contain that specific tag.
FOLLOWERS POP-UP OVERVIEW
If you're an artist, you may have already noticed the View All button sitting next to the Followers counter in your profile Stats section. This button will appear if you have at least 1 follower. Here's what it looks like: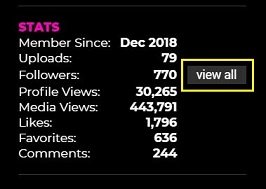 Click on View All to open a new pop-up window, which shows an overview of every user who is currently following you. Artists and regular users are separated in this overview. Anyone can open the overview to check another person's followers. We hope you find this feature useful to connect with other artists and fans. :)
EDIT PROFILE - PERSONAL INFO / PUBLIC INFO
We've given the Edit Profile page a slight makeover. Previously the first tab on this page was Info, which contained a lot of different information, but we've split this into 2 tabs: Public Info and Personal Info. Public Info contains all the info that is publicly visible on your profile page. Personal Info contains personal account information, which is private.

GIVING SLUSHE PERMISSION TO FEATURE YOUR ARTWORK
Up until our staff have messaged artists directly to ask them for their permission to feature artwork as a media highlight in blog posts like this one, or on social media, like Slushe's Twitter. To speed up the communication, we've added a star icon to each user's profile avatar. This icon is only visible to our admins. If the star is gold, it means the user has given Slushe staff permission to feature their artwork, with credit, on the Slushe front page and Slushe social media posts.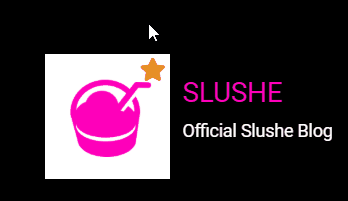 If you'd like to show our staff that you want them to feature your artwork, this is how to get the golden star:
Tick the checkbox that says Slushe may feature my artwork, with credit, on the Slushe front page and Slushe social media posts.
Save.
GENERAL SITE FIXES
Image Width - adjusted our coding so images with a low width are no longer stretched outside of their original proportions when you load an image post.


Similar Posts Same Category - fixed a bug that caused the same post's thumbnail image to appear twice in a row.


Profile Banner - fixed a bug that caused profile banners to not fully display. They should display fine now as long as the recommended dimensions 2000 x 315 are used.


Favorite Users - fixed a bug that caused clicking user avatars to redirect to an error page instead of the profile page.


Gallery thumbnail images - fixed a bug that caused thumbnail images shown on the homepage galleries to appear zoomed in, giving a vague preview of the full image.


Categories page - fixed a bug that prevented categories' names from showing up.


Login - fixed a bug that prevented users from logging in with the Remember Me function, and a bug on the Login page that wouldn't accept user credentials.


Page Not Found notification - adjusted the text font color so the links to the homepage and contact page are better viewable.
MEDIA HIGHLIGHT IMAGE BY ARTIST: OLYMPUS3DX
Starring in today's media highlight are the poster girls of Olympus3DX's Paradise Hotel. If you're interested in seeing more of these girls, Olympus3DX just released a click-and-point sex adventure game in the Affect3DStore where you can check into this hotel as a guest and do just that. (Give the free demo a try!) For more of Olympus3DX's artwork, be sure to give his profile a follow.
Do you want to add items to list ?