Development Update #19
Nov 25, 2020
*Media highlight by artist Hxde
Hey Slusheans, this is Alice from the Slushe admin team. Welcome back for a new Development Update! In this post I'll go over our renewed List post feature, the newly added ability to block users you'd rather not interact with, and a few general site fixes.
NEW SITE FEATURES UP UNTIL NOVEMBER 24TH
RENEWED LIST POST FEATURE
Previously, the List feature allowed you to click a List button on another user's post to add that post to a custom list filled with posts you've collected from other users. In its old form it was a limited feature because you couldn't collect a specific image or a selection of specific images to your list. In its new form, it is possible to grab specific image(s) from a post to add your List.
Anyone with a Slushe user account can use the List feature to save images inside a List. You don't have to be an artist! The List feature is a fun and handy tool to collect images created by your favourite artists. You can create Lists to enjoy privately or to share them with other erotica fans.
Below I've summarized the main changes we've made to the List feature: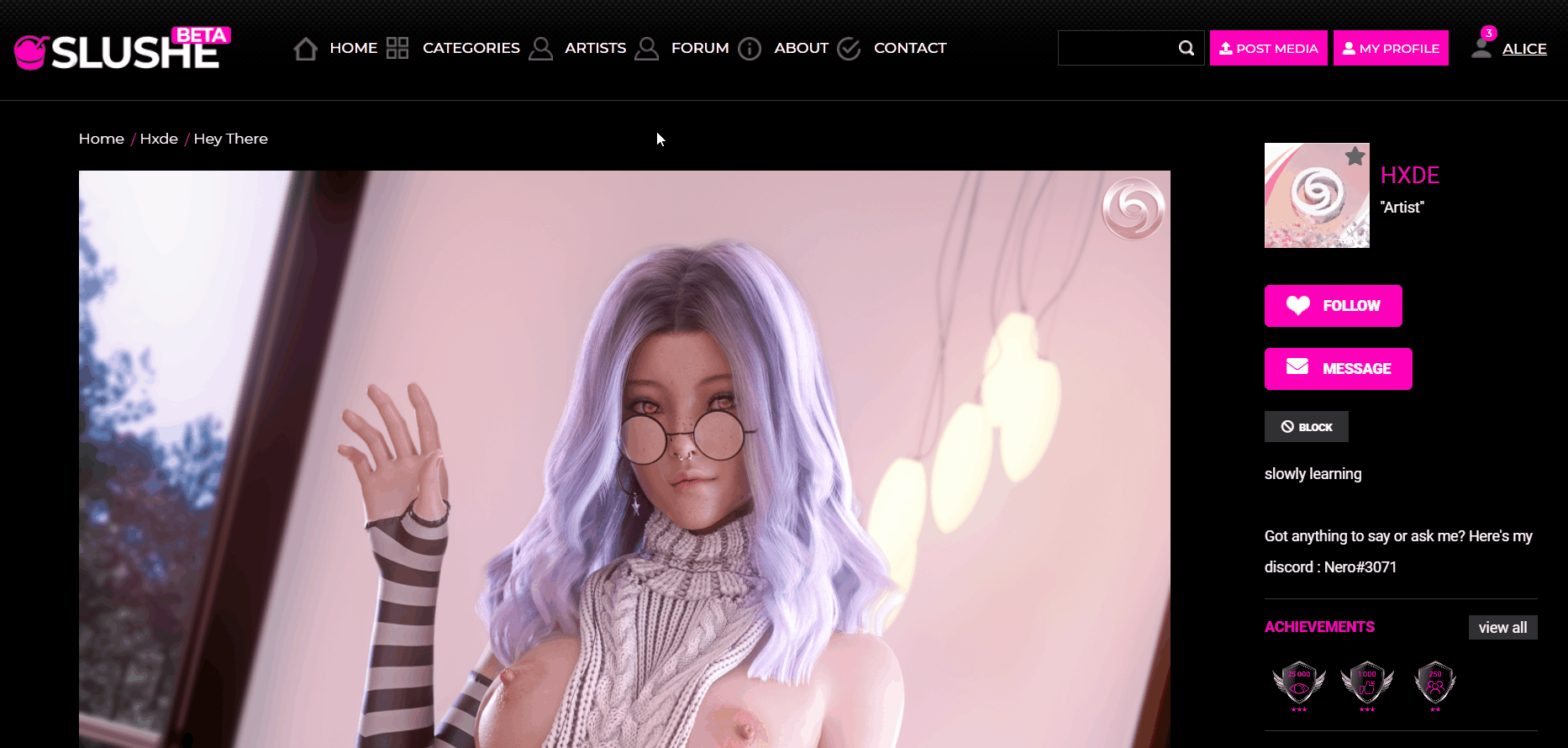 HOW TO USE THE LIST FEATURE:
Open a post and hover over an image. You'll see a transparent checkmark box appear.
Click it to select the image. A LIST button will appear on the right side of the page.
Click LIST to open the SAVE TO… window.
Click CREATE NEW to create a new List. (Once you have an existing List post, you can just click on the List post's name and it will add the image to that List.)
By default it will assign your selected image to become the thumbnail for the List post, but you may also upload a custom image if you'd like.
Enter a Title for the List.
Enter at least 1 Category for the List. By default it will auto-assign the same categories that were assigned to the image by the original artist.
Optional: enter a Description and Tags.
Save your List as a public list or private list.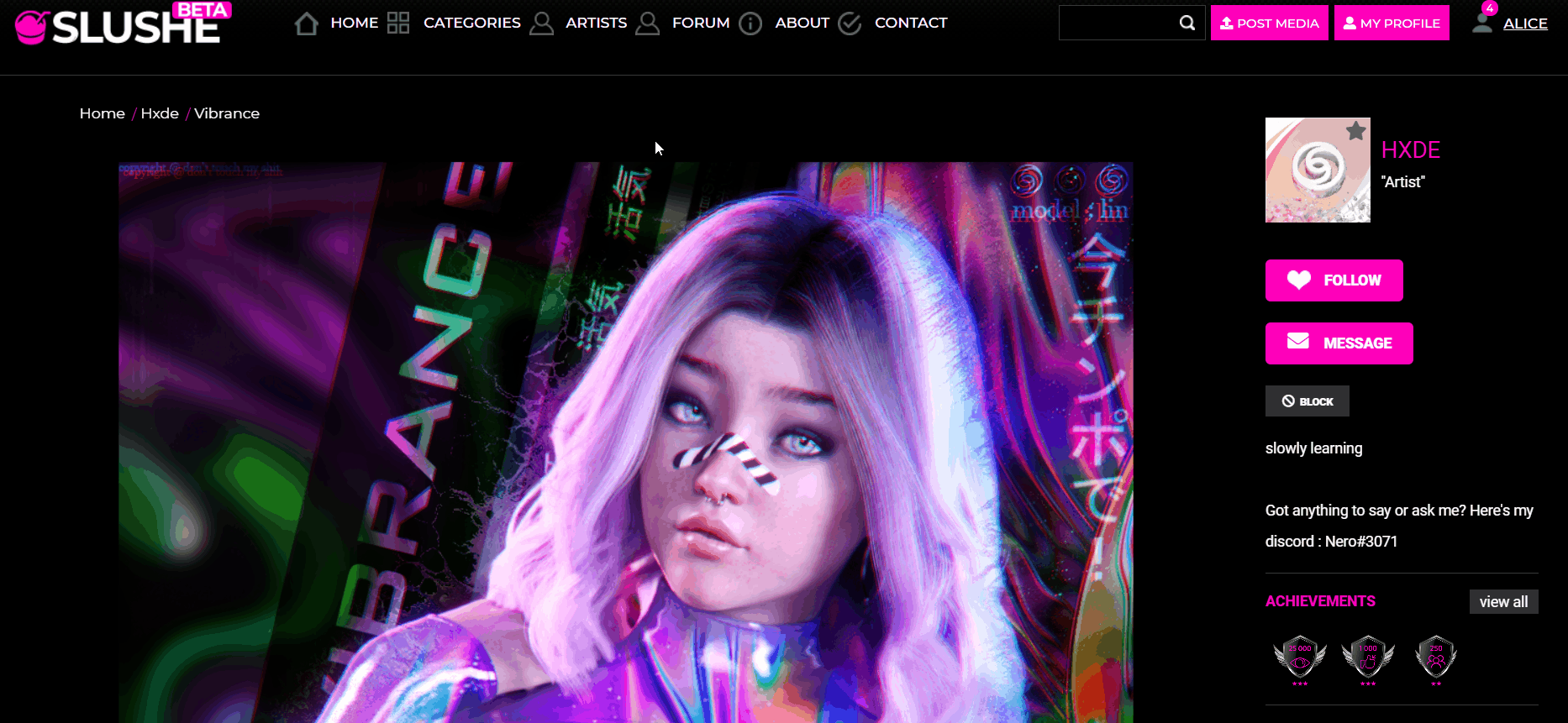 DRAG & DROP IMAGES INTO YOUR LIST!
You can also just grab an image and drop it into your List:
Click the image and hold it. Drag the image over to the right side of the page.
The SAVE AS... window will open. Drop the image on top of the List and you're done!
This works for multiple images as well. If you're dragging multiple images, just tick the checkmark boxes and then drag the images to the right.

LIST ALL SHORTCUT
If you're viewing a post with multiple images and you'd like to add all of them to your List, then there's a shortcut you can use. This way there's no need to manually select all the individual images.
Scroll down to the bottom of the page.
Click LIST ALL.
LISTS HAVE ESSENTIALLY BECOME A NEW TYPE OF POST:
You can save a List as a public or private post. If you save it as a private List, only you and the admins will be able to see it.
You can manage Lists in the Manage Posts section of your user profile menu.
Other users can Like, Favorite, Comment on and Follow your List (as long as your List is public).
LISTS CREDIT THE ORIGINAL ARTIST AND THE ORIGINAL POST ON THE MEDIA PAGE:
When you open a List post that contains 1 to 5 images, you can hover over an image and see the original artist's name and original post name. If you click on the names, you'll be redirected to their profile or post.
When you open a List post that contains 5+ images, you can open the image slideshow to view the full images and see the original artist's name and post name in the top left corner. If you click on the names, you'll be redirected to their profile or post.
HOW TO TELL THE DIFFERENCE BETWEEN A LIST POST AND A REGULAR IMAGE POST:

On the Homepage and profile galleries, List posts will have the above icon.
In Fixed Width Blog View, List posts also have a dark purple background colour to better distinguish them from original works.
LIST POSTS ON THE HOMEPAGE
It is possible to find List posts on the Slushe Homepage. However, they will appear only in the LISTS tab. List posts will not be mixed with Image posts and Video posts in MOST RECENT, MOST LIKES, MOST VIEWED or MOST DISCUSSED. List posts will also not be featured in the FEATURED tab of the Homepage. These sections are reserved for original works only.
OLD LISTS
Lists created by using the old method have been (temporarily) hidden for now. The content still exists on Slushe, but our programmers are still investigating whether it is possible to convert the old lists into the new format. If it is possible, we will release another update to do the conversion as soon as possible.
BLOCKING USERS
We've added the ability to block other users. If you no longer wish to be contacted by someone, you can find a small Block button on their profile page. Please note that if you're experiencing any form of harassment, you can always notify our moderators at [email protected]. We will review the situation and take whatever action is deemed necessary.
What happens when you block another user:
Blocked User will not be able to send you messages.
Blocked User will not be able to reply to your forum posts.
Blocked User will not be able to comment on your posts.
Blocked User will not be able to like your posts.
Blocked User will not be able to favorite your posts.
Blocked User will not be able to follow your profile.
The block will also prevent you from contacting the Blocked User.
The block will remove you and the Blocked User from each other's Favorite Users list.
The block will remove any existing Likes and Favorites that you and the Blocked User have received from each other.
The block will hide any existing comments that you and the Blocked User have received from each other on posts. (They will still be accessible to moderators.)
Managing blocked users
If you go to https://slushe.com/edit-profile/personal-info you will find a new Blocked Users section at the bottom of the page. Here you can view blocked users or unblock them.
GENERAL SITE FIXES
Video posts thumbnail images - we've updated the way Slushe processes videos' dimensions so videos of various dimensions will display better on media pages. Previously the video player could be taller than the user's screen, which required them to scroll to view the entire video. Now the video should fit on your screen regardless of the dimensions.
Image posts and Video posts Twitter thumbnail image preview - these will show properly now when links are shared by Slusheans via Twitter.
Favorite Users section - users you're following will now show in order of most recently followed to least recently followed.
Similar Posts Same Category section - adjusted this section to only display the most popular content from the past 2 months. Previously older content was mixed in as well.
Post updates processing time - optimized cache settings to process updates made to existing posts faster. Previously there were long delays; now changes made to posts should be visible instantly after saving.
Search Results Queries - optimized the queries to alleviate the loading time a little.
DeviantArt link in profile - fixed a bug that prevented the DeviantArt icon with a link to the user's DA page from showing up on their profile.
MEDIA HIGHLIGHT IMAGE BY ARTIST: HXDE
Hey There! In today's Media Highlight we're showing off the curves of a futa pinup babe by Hxde. If you're curious to what see else is hiding underneath that virgin killer sweater, be sure to click the link to view the full artwork and say hi. :) Stop by Hxde's profile for more of where this came from!
Do you want to add items to list ?