Development Update #21
Oct 24, 2021
*Media highlight by artist Shockabuki
Hello Slusheans! It's Alice with a (slightly delayed) development update. Today I wanted to talk to you about the site updates that we did on 24 September and 20 October. It's been a while since we've done a big site update, so I'll go over the highlights with you.
NEW SITE FEATURES UP 20 OCTOBER 2021
THUMBNAIL IMAGE OPTIMIZATION (PART 2)
We've optimized the thumbnail images that appear on these pages:
Profile Page (Latest Works, Favorites, Favorite Users, etc.)
Post Page (Image files, Similar Posts Same Artist, Similar Posts Same Category, Similar Lists Same Category, etc.)
What we mean by 'optimized', is that we stopped displaying thumbnail images at the same file size as the original file. We've decreased the size of thumbnail images with minimal quality loss, so that they take up less space - which means they'll load faster.
Back in January 2021 we already optimized thumbnail images of posts that appear in the Homepage galleries and the profile Timeline / Blog, so this nearly concludes our thumbnail optimization project. Currently only the thumbnail images of images that have been uploaded since 24 September 2021 are optimized for size. We plan to optimize older thumbnail images at a later time.
CONVERSION OF ANIMATED GIF TO WEBP
Because animated GIFs can be quite heavy, they are now converted to WebP format. WebP is about 25% smaller than PNG or JPG images. It compresses GIFs with minimal quality loss, so although they become smaller and easier to load, you still get to see high quality GIFs.
This conversion currently also only applies to animated GIFs that have been uploaded since 24 September.
ADJUSTED CATEGORIES & ADDED PRE-SUGGESTED TAGS
For artists, we've made it so the Post Media form now remembers which Categories and Tags you assigned to your last post on Slushe. Those Categories and Tags will be pre-selected for you the next time you create a new post.
Your Popular Tags is a new feature that we've added. It consists of 20 tags which are suggested to you based on the tags that:
other users have used mostly frequently in the Category that you selected for your post
you've used most frequently in your previous posts
When you select or deselect a Category, Your Popular Tags will change suggested tags accordingly.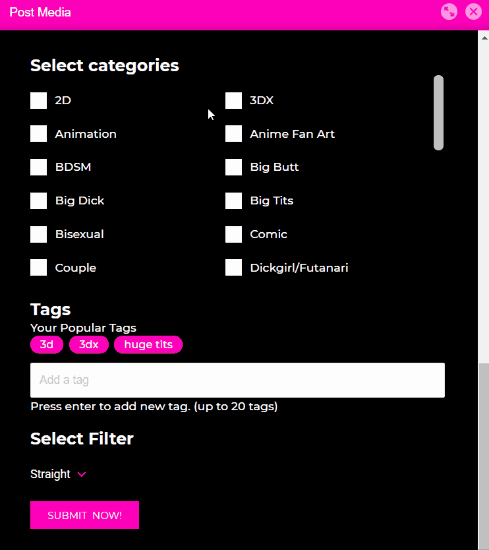 To add a tag from Your Popular Tags to your post, simply click on it.
To add a new tag to your post, type it in. Then either add a comma or click Enter. Please note that mobile users can only use Enter - commas are not supported on mobile.
To remove any tag from your post, click on the red X icon.
DEADLINES FOR POLL POSTS
We've added the ability to expire poll posts (e.g. add a deadline for them, so other users can only vote up until a certain date and time!)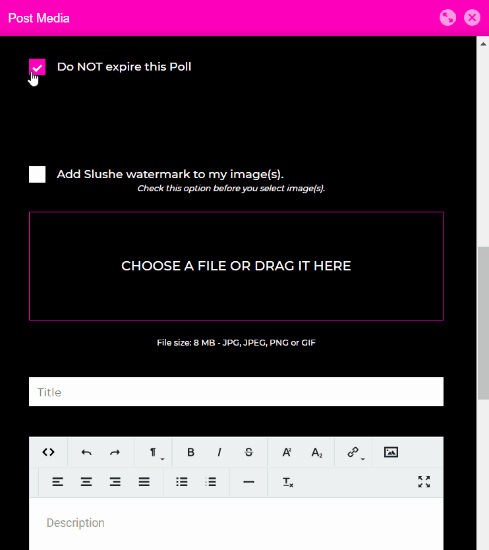 How to add a deadline to your poll:
Open Post Media and select Poll.
Deselect the checkbox that says Do NOT expire this Poll.
Select an End Date and Time for your poll and save your post as usual.
Please note that the Poll post doesn't automatically specify the deadline. When you add a deadline to your poll, please ensure to leave a note in your Poll post. Also, the deadline corresponds to your country's timezone, so please notify your fanbase of the time zone you're working with. :)
EMAIL NOTIFICATIONS
On 20 October we did an update to our mail client, which should've resolved the issue we've been having with Slushe email notifications going to Spam instead of your inbox. We'll continue to monitor the emails for the time being.
GENERAL SITE UPDATES
Switched to Cloudflare Stream for videos. Videos are now hosted on Cloudflare to preserve storage space on Slushe. Videos still function the way they always have, except the Download option has been temporarily disabled. This is due to Cloudflare not supporting MP4 downloads (yet. They're in the process of adding support).
Added ability to disable private messaging. If you don't want to be contacted by other users via private message, you can disable it in https://slushe.com/edit-profile/notifications. Please note that Slushe admins will still be able to contact you via private message.
GENERAL SITE FIXES
Fixed issue with animated GIFs breaking when a Slushe watermark is applied to them in the post editor. Please note that watermark support for animated GIF isn't available at this time. If you try to add a watermark to an animated GIF, the GIF will be uploaded without a watermark.
Fixed transparency support for GIF images.
Fixed issue with long usernames overlapping with Publishing Date on mobile phones.
Fixed image counter icon's visibility on mobile phones.
Fixed site notifications' counter position on mobile phones.
Fixed tooltip texts of Like and Favorite buttons.
Fixed bug that allowed users to vote multiple times in a single Poll.
MEDIA HIGHLIGHT
Shockabuki created the lovely redhead we're featuring in today's blog post! The original artwork is over here, and if you love redheads as much as I do, make sure to also check out this alternate version of this shot! Hop over to Shockabuki's page and give them a follow if you want to see more of their gorgeous artwork!
Do you want to add items to list ?