Development Update #24
May 10, 2022

Hey there Slusheans, Alice here. Today I'll talk about a new text editor that we've added to the post uploader as well as some other site functions we've updated. 
We would also like to take this opportunity to extend a warm welcome to any Second Life users who may have joined Slushe recently, as we've noticed an increase in Second Life related content on the site lately. Rest assured that artistic Second Life images and videos are welcomed on Slushe, provided that the content complies with our
Site Rules
and the content is tagged as 'second life'.
Please note however that Second Life content is not eligible to be featured on Slushe's Homepage, nor as a Media Highlight in Slushe's official blog posts or social media posts.

EDIT 2022/05/11
-
We have added a Second Life category at the request of users. When you post Second Life related content, please add the Second Life category to your post. Please note that the Second Life category isn't enabled for viewing by default. If you wish to view Second Life content, please open your Category settings, tick 'Second Life' and click 'Save'. 
---
General site updates up until 6 May 2022
Updated Site Rules
Speaking of
Site Rules
- we have added 2 new rules to better reflect the type of content that users may host on Slushe. The new rules are listed below.
Artwork Depicting Real Life People Artwork*

- Artwork that depicts real life people is not allowed on Slushe. Any content bearing a resemblance to a real life person in appearance, name, or any other identifiable attributes will be removed from the site. 
*This means that you may post fanart of Marvel's fictional character Black Widow, but you may not post fanart of Scarlett Johansson the real life actress. 
Spamming or flooding the site

- Don't publish numerous posts in a short period of time or post the same content repeatedly. Don't leave repetitive comments on other people's pages. Don't repeatedly message people without their consent. If you engage in spam-like behavior your account may be suspended.
New Text Editor
We have replaced the text editor in the Post Media uploader. We found the new editor a lot more user friendly than the previous editor. The current editor has the same functions as the old editor, with a few additional abilities.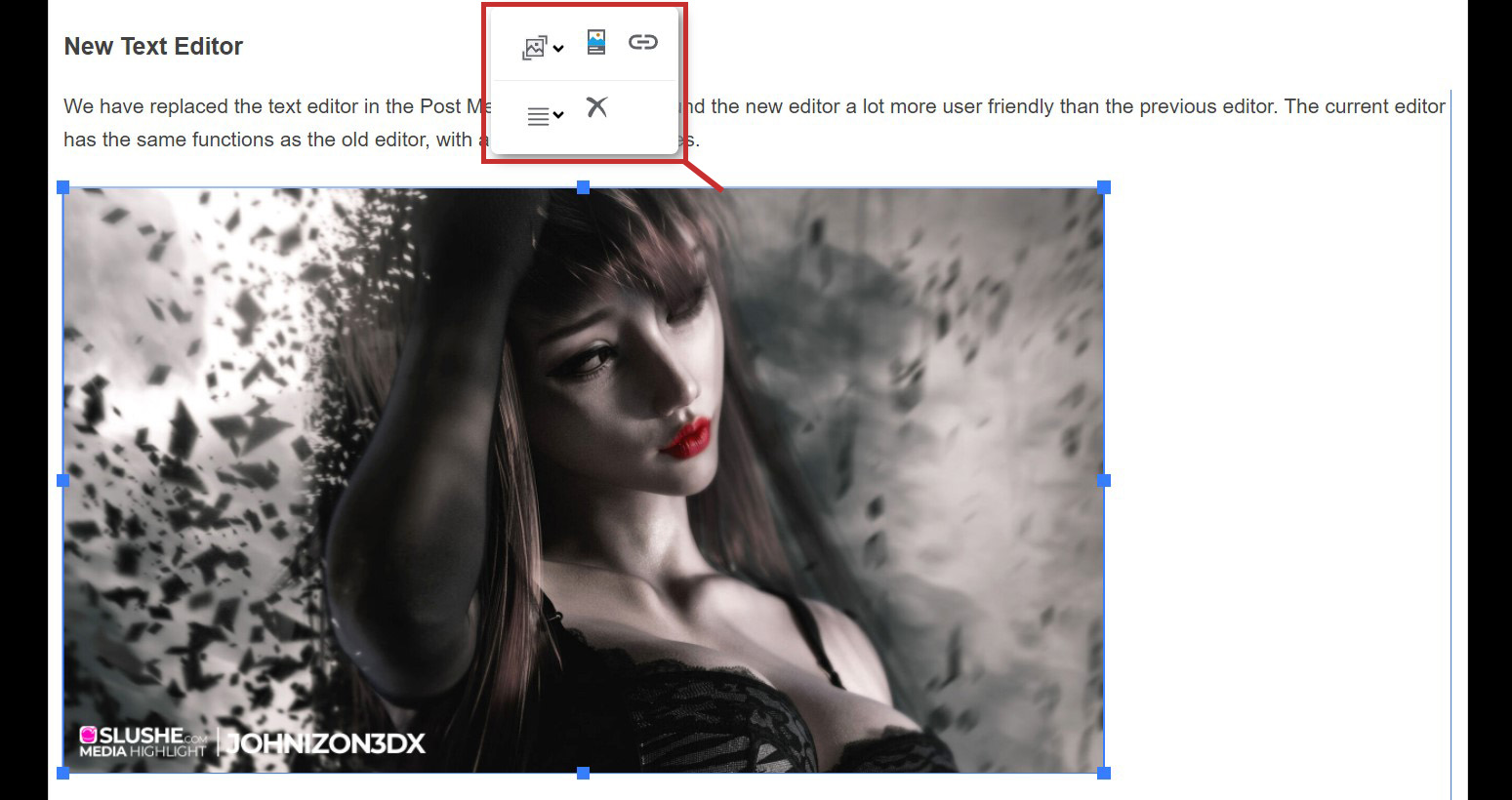 Insert Image
- when you use this function to insert an image by url into the post's description, you'll see some options to alter the image: 
Set Size

- to alter the image size 

Image Caption

- to add some text directly beneath the image 

Insert Link

- to direct the viewer to another page link if they click the image 

Justify

- to align the image to the left, center or right 

Remove

- to delete the image from the description 
Also just a quick reminder that the Insert Image function only supports links from these websites:
Imgur.com Slushe.com Affect3DStore.com Affect3D.com 
Added User Time Zone
In
Edit Profile
you'll find a new option in
Personal Info
that says
Time Zone
. When you log into your account, your time zone is automatically detected. If you would like to use a different time zone, just select it from the dropdown menu and click Save at the bottom of the page.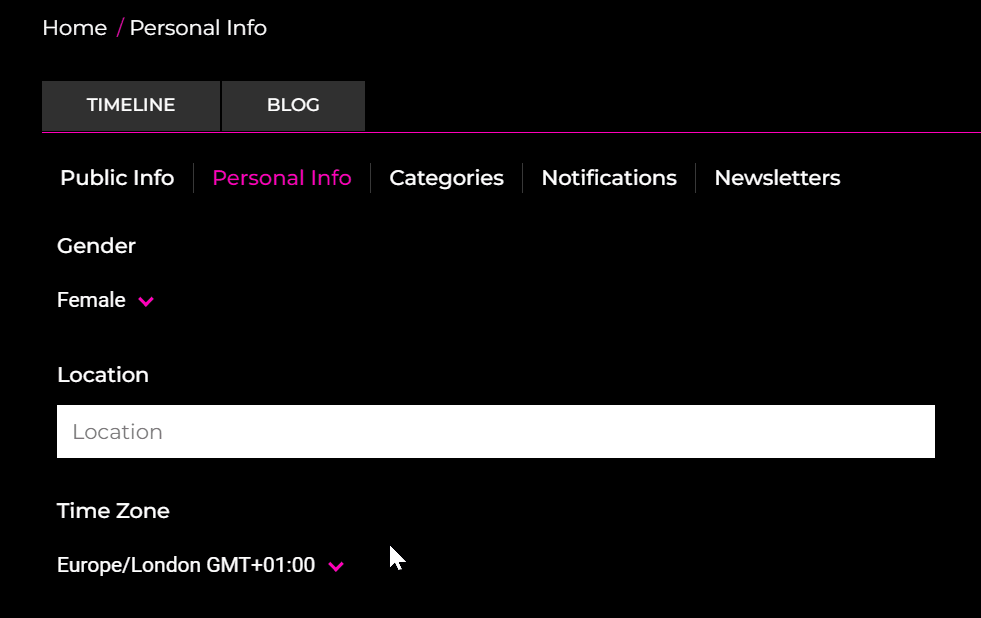 We've added the time zone mainly to improve the functionality of Poll posts, and to make use of it with future site functions as well. If you have any Poll posts that contain deadlines and you change your time zone, the Poll will update itself to reflect the same deadline in your chosen time zone. 
Improved 'Disable Comments' Functionality
With Development Update #23, we added the ability for artists to disable comments on their posts. Previously disabling comments would also make notifications of likes, favorites and lists invisible. This is no longer the case. When you disable comments, likes, favorites and lists will  show in the comments thread. 

Additionally, we added the ability to hide a specific comment from a post for anyone who may not want to fully disable comments on their post. Simply click the 'Hide comment' icon next to the user's comment to hide the post. Click it again if you want to reveal it. 
Please note that you cannot hide comments left by Slushe admins or mods.
Removed Forum
As we mentioned in Development Update #23, we have fully disabled the forum with this update. The forum is still available in read-only mode for the time being. We encourage everyone to move all discussions to the
Slushe Discord server
. 
Media Highlight
The red lipped edgy babe we're featuring in this blog post is brought to you by 
Johnizon3DX
! If you would like to admire this lady from head to toe, check out Johnizon3DX's post
Distorted
. While you're there, be sure to give Johnizon3DX a like and a follow! 
Do you want to add items to list ?