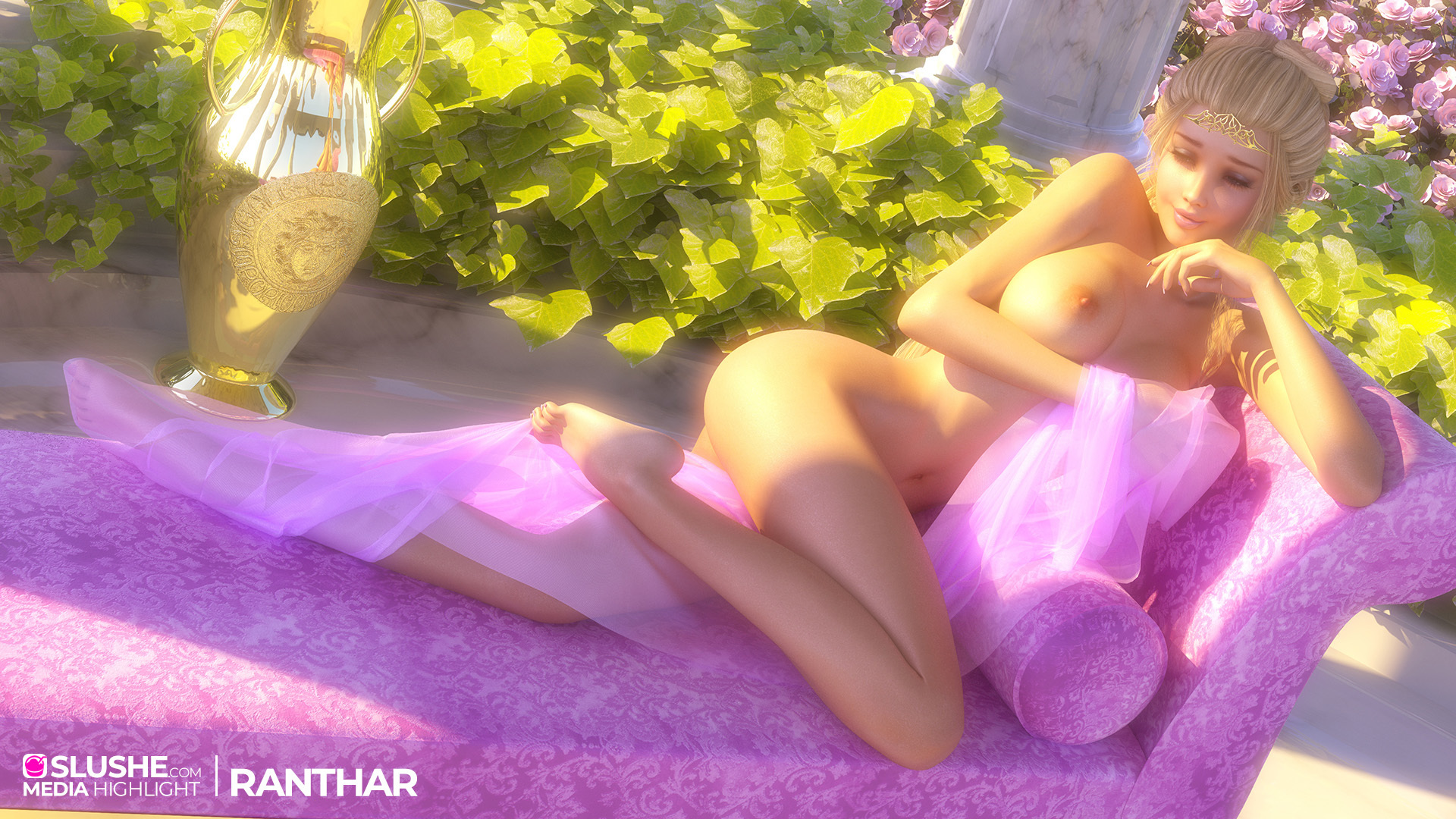 Development Update #9
Mar 08, 2019
NEW SITE FEATURES UP UNTIL MARCH 8TH 
FIXED WIDTH BLOG VIEW
We have added a new setting to your profile Timeline and Blog feeds. It is called Fixed Width Blog View. As you can see below, it is a modified version of the existing Blog View.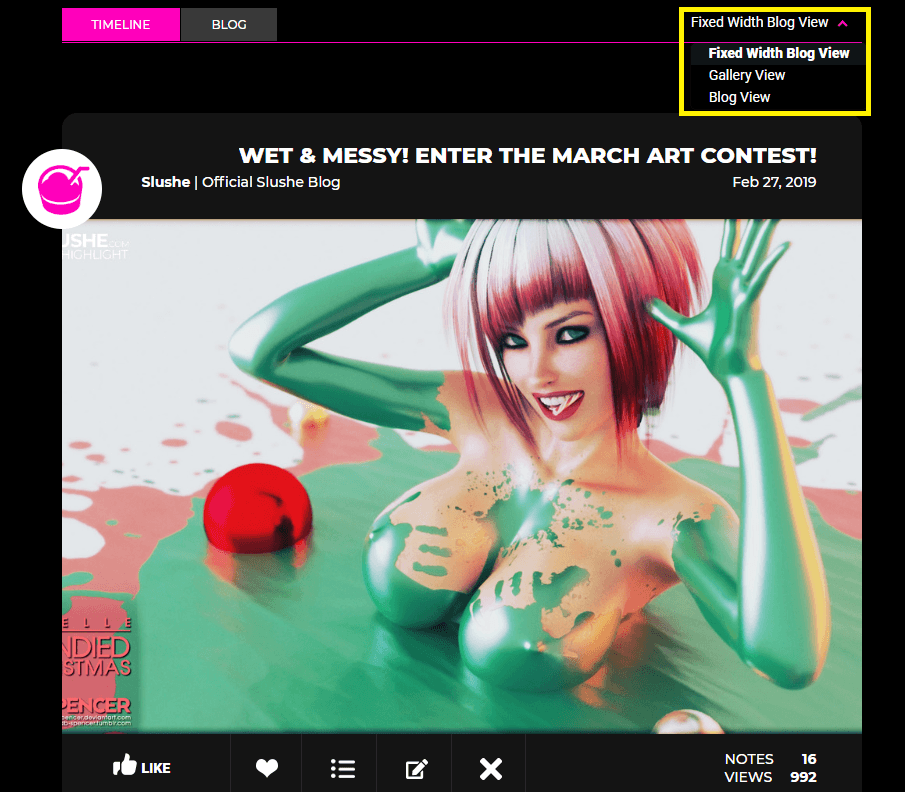 In the top left corner of each post, the creator's profile avatar and username are displayed. These both redirect to the user's profile page when clicked on. Below the thumbnail image are the usual buttons to Like, Favorite, List, Edit and Delete. If you're unsure what a button does, simply hover your cursor over it and a text bubble with more information will appear. 
In the bottom right we have added a new Notes and Views counter. 
Notes - this is the total number of likes, favorites, lists and comments a post has received. Hover your cursor over the Notes counter for the specific details. 
Views - this is the total number of page views a post has received. Please note that the view count only goes up after a user clicks on the post to view the full page.
If you compare Blog View to Fixed Width Blog View, Blog View only shows a portion of a post's thumbnail image whereas Fixed Width Blog View fully displays the thumbnail image as long as it is landscape oriented. Thumbnail images with portrait orientation are still being worked on; it's our intention to fully display those eventually as well. 
Another new feature that comes with the Fixed Width Blog View is a total image counter for multi-image posts. If a post contains 3 or more images, additional thumbnail images will display underneath the featured image and a View all _ images button is added. See example screenshot below.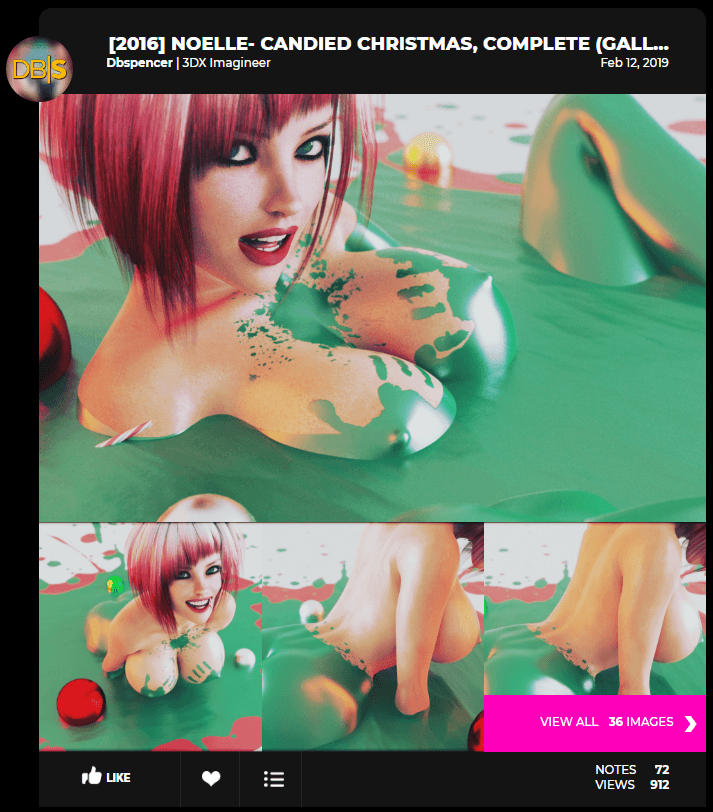 Please try out the Fixed Width Blog View and let us know what you think of it so far! 
USER PROFILE URLS
Our programmer has shortened the user profile URL from https://slushe.com/user/username to https://slushe.com/username. Any clickable site references to a user profile, such as clickable usernames listed above posts in (Fixed Width) Blog View or user avatars in My favorite users have also been reprogrammed to redirect to the new user profile URL.  
Any existing posts on the site that contain a link to another Slushe user's old profile link will auto-redirect to the new, correct link, so there is no need to edit your posts. 
MESSAGES & INBOX MODIFICATIONS
Messages - We added a messages counter. If you open the User Menu and check Messages, you can now see exactly how many unread messages you have in your inbox. 
Inbox - We have added a grey overlay to unread messages so it is easy to tell read messages and unread messages apart from each other. 
GENERAL SITE FIXES
We fixed an issue that prevented the system from retaining changes made to the featured image of multi-image posts.  
We fixed an issue that prevented posts older than February 19th, 2019 from retaining text changes made by the user in the post editor. 
To receive more updates about Slushe's development in your profile Timeline feed, please follow the Slushe Development Update List.

DON'T FORGET TO GET WET & MESSY! 
Enter the March Art Contest and feel free to get as creative as you like with our latest contest theme 'Wet & Messy'!  Both 3D and 2D artists may enter this competition. The prizes include: a one of a kind contest winner badge, a featured spot in the Slushe big banner slider for a whole month, a featured blog post on both Slushe.com and Affect3D.com.
If you enter the contest, make sure to tag your image: march contest 19 so the admins are able to find your contest entry. Submit your contest entry by the end of the day on Saturday, March 23rd, 2019 at the latest. For more info, check out the Wet & Messy contest rules!
MEDIA HIGHLIGHT BY ARTIST: RANTHAR
Today's media highlight is Nia - Thinking Only of You. If you liked this image, make sure to stop by Ranthar's profile page to check out their other creations and give them a follow!