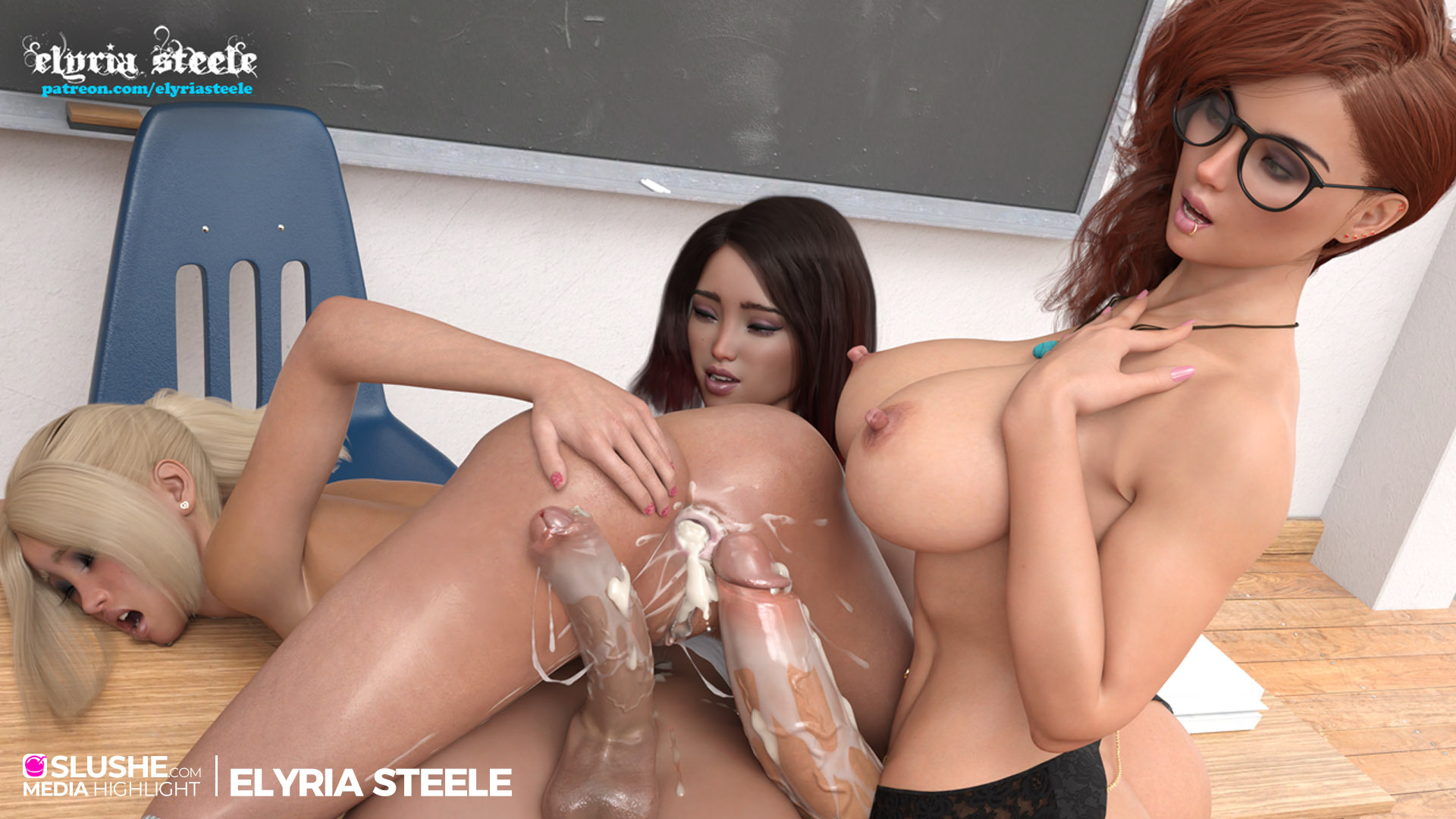 Enter the Next Slushe Art Contest: Sexual Education!
May 23, 2019
*Media Highlight image by artist Elyria Steele.
We closed the voting for our latest poll earlier this week and Slusheans have decided that the next art contest theme is Sexual Education! What does that mean? Well, that's up for you to decide, but we're guessing it might have something to do with sexy teachers, scantily clad students, or some sort of class intended to educate on the matters of fucking. Given our site rules, however, please make sure any students you add to your artwork are 18-year-old seniors or college age ;)
Of course there's more to sexual education than just conventional classroom settings. Some of your characters may have learned about the birds and the bees outside of school, or have learned a thing or two more years later from someone with a bit more experience. Hell, maybe you'll teach us something we didn't know with your submissions! Anyway, if you're interested in participating check out the rules below.
Prize: A Featured Spot on the Slushe big banner for 1 month, a feature blog post on Slushe, a spot on the feature banner on Affect3D.com for 1 month, and a unique contest winner badge.
Deadline: Saturday, June 22nd, 2019
Poll: June 25th-July 2nd 2019
Winner announcement: July 3rd, 2019
Rules:
To enter this contest, create an original 3D or 2D image matching the contest theme, then upload it to your Slushe account with the tag "june contest 19".

One entry per artist, with a single entry consisting of one image post with at least one attached image. A post may contain multiple images, but the artist must designate which image they intend to represent the entire entry. Submitting multiple images will not increase or decrease your chances of winning. Please ensure that you designate the image you want entered in the contest in the text of your post. If the designated image is not clear to the contest organizer, the organizer will select the first image.

Your image must meet

Slushe's Site Rules

and should not include content that would categorize the image into one of Slushe's Opt-in categories (Dubcon, Furry, Scat, Watersports, and Zoo).

Image format: Hi-res JPG, PNG, or Animation.

Artists wishing to work in teams may do so. To designate a team entry, just clearly list the members of your team in the text of your post. All participating artists may upload the work to their respective Slushe account, but it is not necessary to do so. (If a team wins the contest, all members of the team will win all prizes.)

Your image must be tagged with "june contest 19" and posted by the end of day Saturday, June 22nd, 2019.

Good Luck!
Media Highlight by Artist: Elyria Steele
Today's Media Highlight is Sex Ed - Part 9 by Elyria Steel. Elyria is a 3DX artist and erotica author with a number of sultry images and short stories for you to enjoy. She has several more posts in her Sex Ed series on her Slushe page, plus art and stories in other genres. Head over to her profile to check out the rest of her uploads or check out her Amazon store to grab one of her e-books.