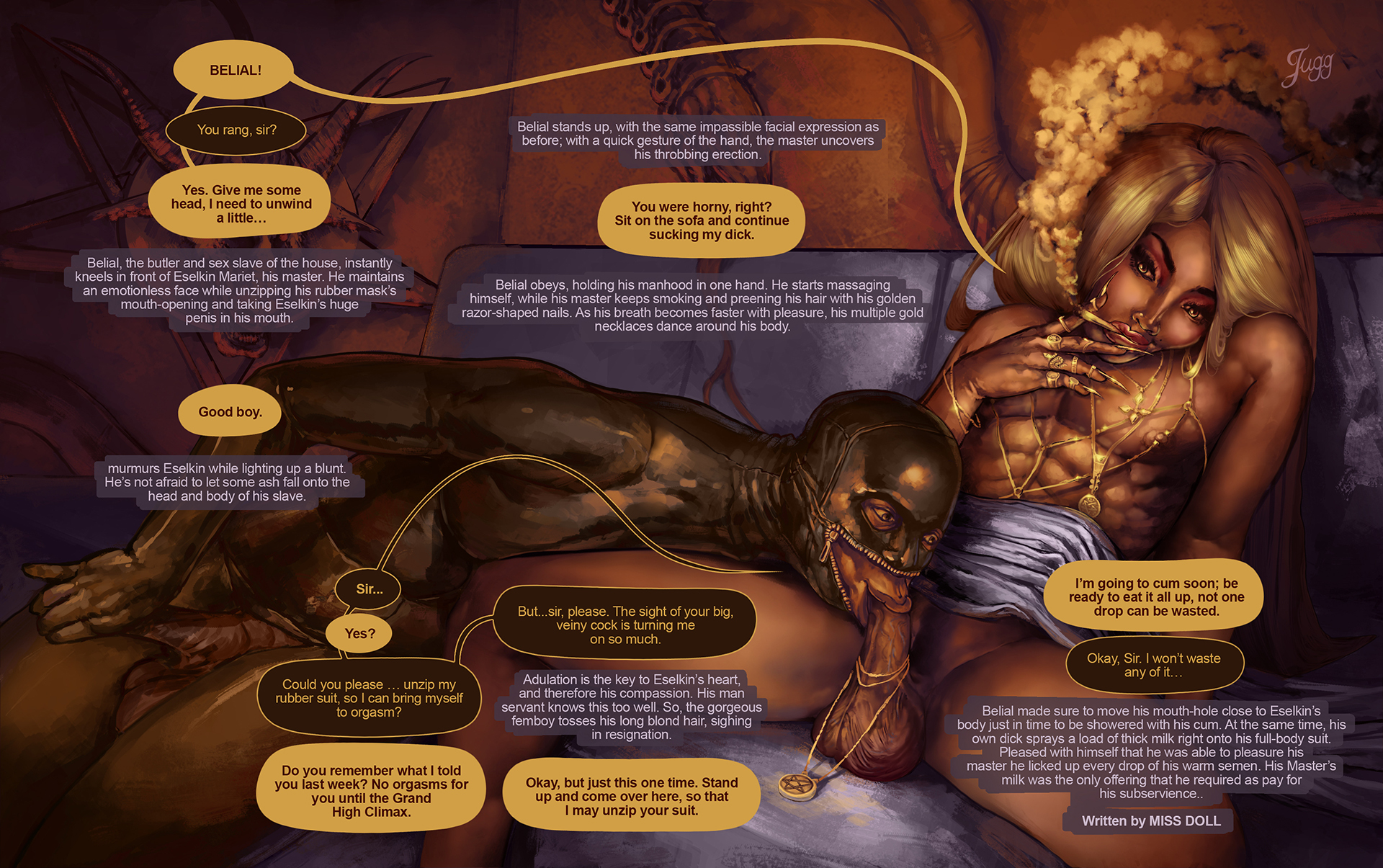 HOTS (Head of the Snake) (Story)
Jan 30, 2020
PATREON: https://www.patreon.com/jugganautmind

TWITTER: https://www.twitter.com/JuggMind
INSTAGRAM: https://www.instagram.com/jugganaut4life
_________________________________________________
"Belial!"
"You rang, sir?"
"Yes. Give me some head, I need to unwind a little…"
Belial, the butler and sex slave of the house, instantly kneels in front of Eselkin Mariet, his master. He maintains an emotionless face while unzipping his rubber mask's mouth-opening and taking Eselkin's huge penis in his mouth.
"Good boy", murmurs Eselkin while lighting up a blunt. He's not afraid to let some ash fall onto the head and body of his slave.
"Sir..."
"Yes?"
"Could you please … unzip my rubber suit, so I can bring myself to orgasm?"
"Do you remember what I told you last week? No orgasms for you until the Grand High Climax."
"But...sir, please. The sight of your big, veiny cock is turning me on so much."
Adulation is the key to Eselkin's heart, and therefore his compassion. His man servant knows this too well. So, the gorgeous femboy tosses his long blond hair, sighing in resignation. "Okay, but just this one time. Stand up and come over here, so that I may unzip your suit."
Belial stands up, with the same impassible facial expression as before; with a quick gesture of the hand, the master uncovers his throbbing erection.
"You were horny, right?", giggles Eselkin. "Sit on the sofa and continue sucking my dick."
Belial obeys, holding his manhood in one hand. He starts massaging himself, while his master keeps smoking and preening his hair with his golden razor-shaped nails. As his breath becomes faster with pleasure, his multiple gold necklaces dance around his body.
"I'm going to cum soon; be ready to eat it all up, not one drop can be wasted."
"Okay, Sir. I won't waste any of it…"
Belial made sure to move his mouth-hole close to Eselkin's body just in time to be showered with his cum. At the same time, his own dick sprays a load of thick milk right onto his full-body suit. Pleased with himself that he was able to pleasure his master he licked up every drop of his warm semen. His Master's milk was the only offering that he required as pay for his subservience..
- Written by MISS DOLL