Interview with Elyria Steele, Take 2!
Nov 19, 2019
You may recall that Elyria Steel was the winner of our Goths art contest in October. We had a chance to interview her a few weeks back and invite you now to learn more about this impressive 3DX artist.
Congratulations on another contest win, Elyria. Tell us about the inspiration behind this dark entry.
Thank you! It was very close, and so many great entries, I was very lucky to win. When I saw the theme for the contest was "goth girls" I just knew I wanted it to be set in a graveyard of sorts. As I was thinking up what I wanted to make my goth girl look like, I couldn't decide on what hair color I wanted to use, so I decided to incorporate blonde/brunette/redhead into the picture. After that, the overall composition just came to me.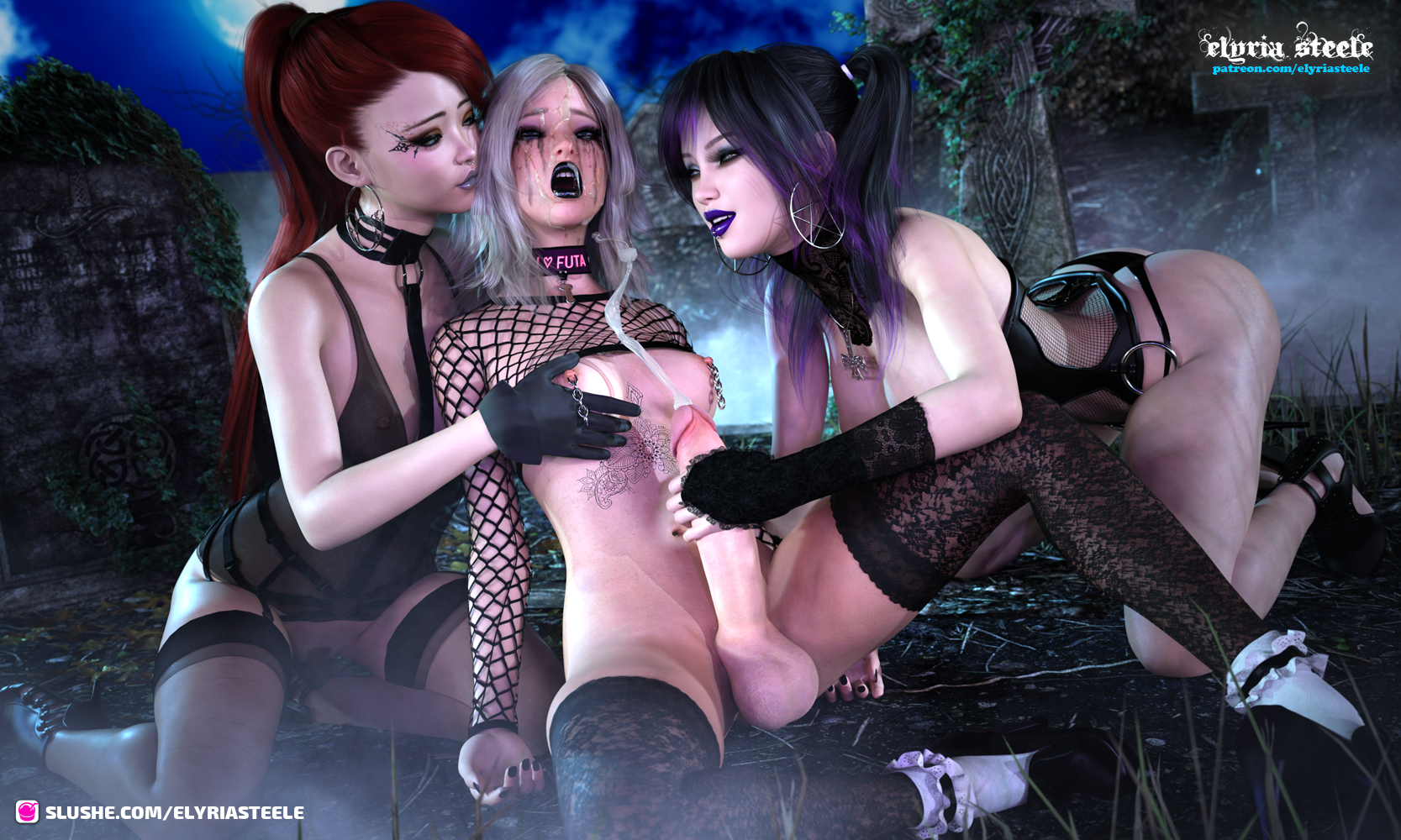 If I say hey now, hey now now, what are you going to sing to me*?
Uh. . . "Don't dream it's over"? I guess that's what you're thinking of, but in reality I probably wouldn't sing at all! I've been told I have a nice singing voice, but I'm very self-conscious about it. =P
(*This was our goth insider test at Elyria's knowledge on the anthems of goth music. If you don't get it, don't worry, 3/4 of us on staff didn't either.)
What does Goth mean to you? What is your favorite aspect of it?
I feel it's very representative of a time where many are starting to look beyond who they are, and revel in the dark and macabre with a style that can be both sexy and fun. I just really love this time of the year, and when you're goth it's always this time of the year! =P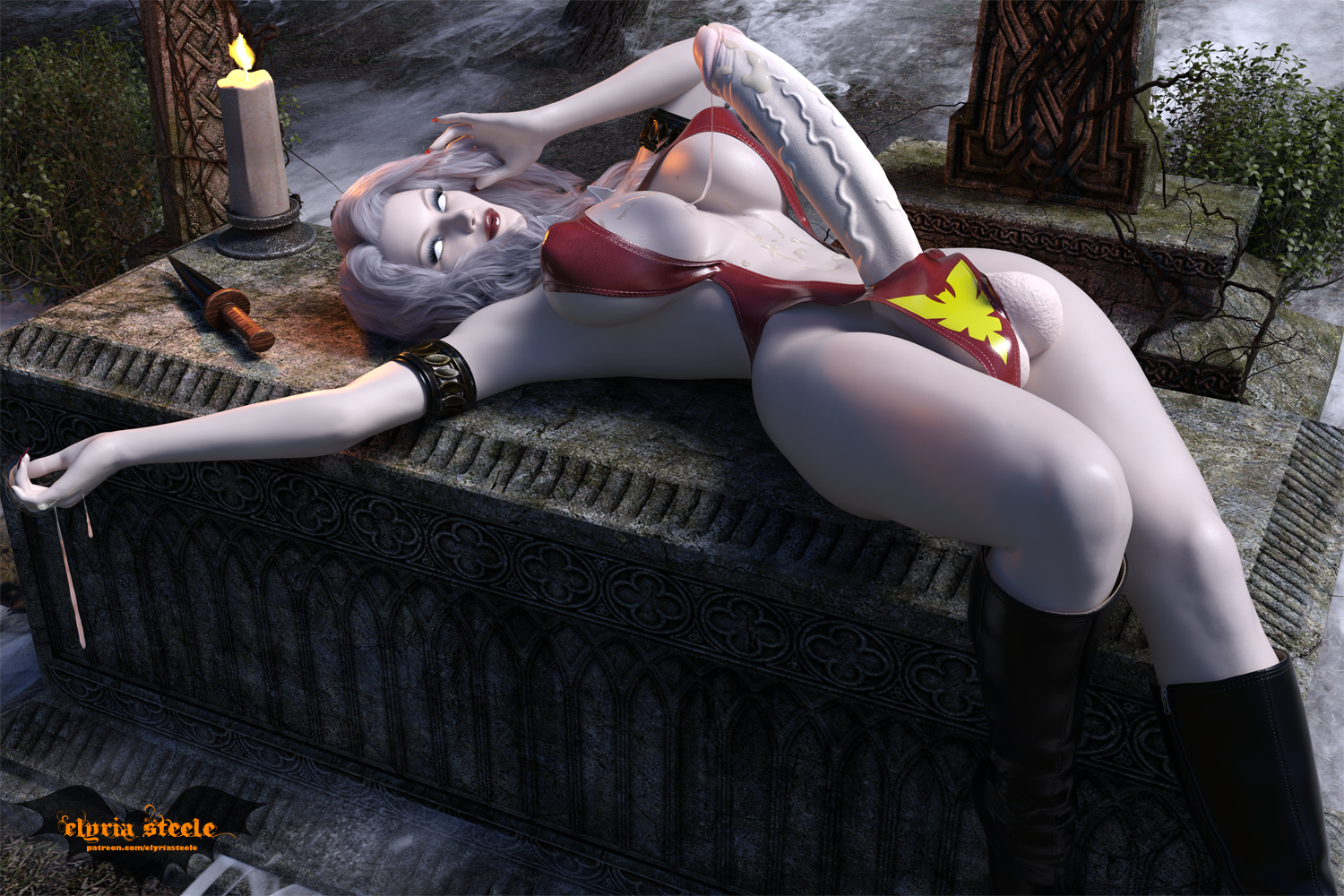 Tell us a bit more about these three characters.
I really didn't come up with much backstory for them. Sometimes it's nice to not have a story told to you, but allow just enough detail that the viewer can come up with what they would like the picture to be about. But, honestly, they were almost bullet points of what I had asset wise that I felt encompassed a goth look. I know it's not terribly interesting, but it's the truth.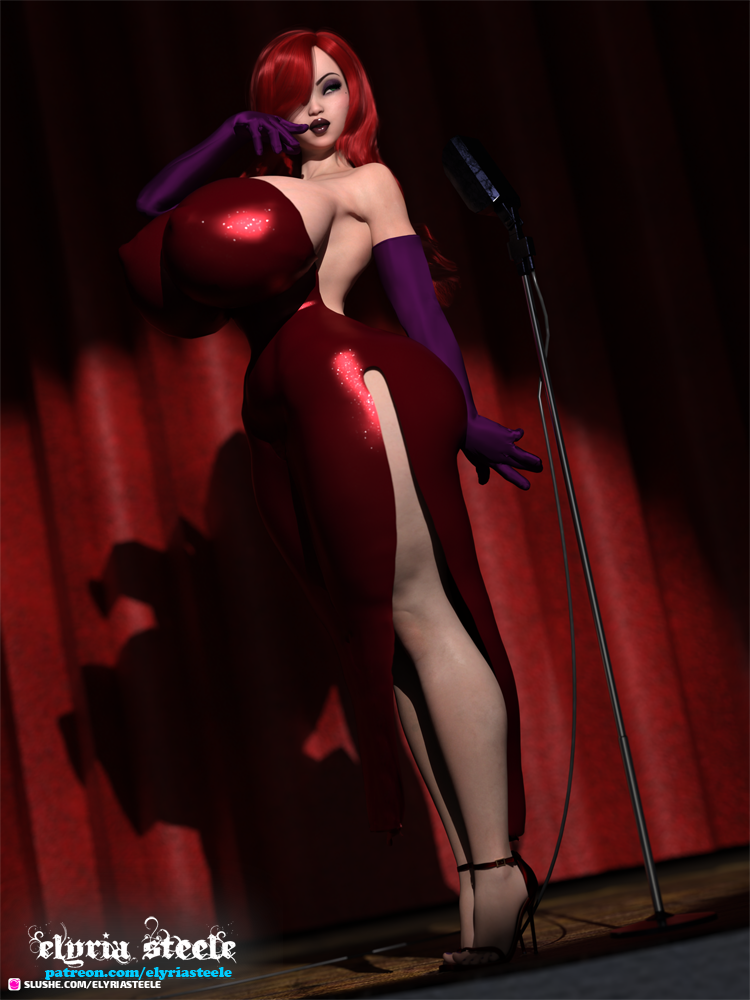 I see you are releasing a lot more images. Are you focusing more on 3DX now?
I'm actually always releasing a lot of images exclusively on my Patreon, but I've been releasing more pictures publicly in the hope that more exposure would help with finding new supporters. I have been producing a lot more variants (nude, erect, cumshot, etc.) for my pictures lately, which can all be found exclusively in 4k through my Patreon, and I just thought it would be a good time to have some fun with the costume theme for October. It really can't be said enough how much it means to have the wonderful love and support of my patrons. Working in 3D art is actually quite costly, and I really couldn't do it without their help.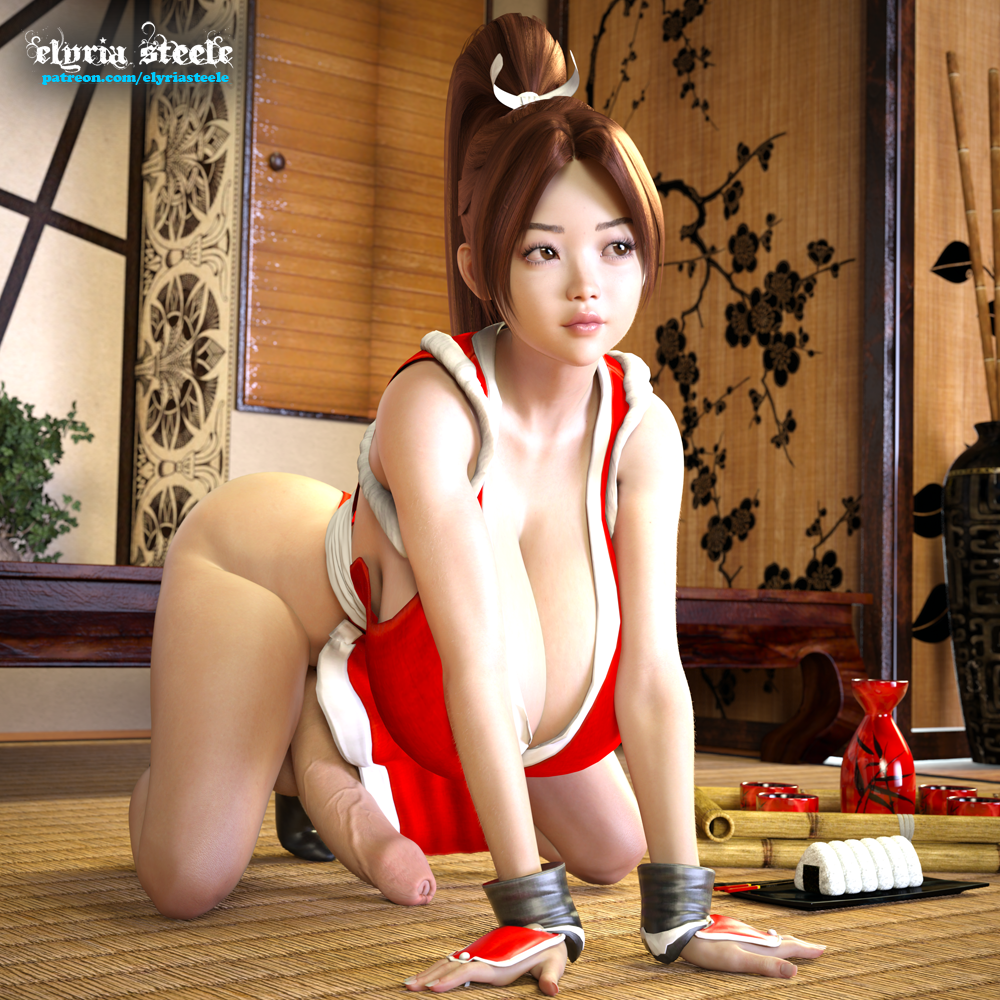 As you've dove deeper into 3DX have you learned anything new and noteworthy you can offer as advice to other artists since the last interview?
Oh, I don't know. It hasn't been that long! =P Technically speaking, I can't think of much. I know it's becoming harder and harder to make a name for yourself in this ever growing field. Just find that thing that you're good at, and stick with it!
Other than the goth contest, have you recently explored a topic you haven't before, or something you're looking forward to in the near future?
I'm always being challenged the commissions I work on! It's really fun and exciting to work on subjects or elements that I wouldn't normally think of myself. Tentacles, futa on male, bondage, cow girls (not like from the old west, but actual "cow" girls), alien abduction are all things I've had the pleasure of working on this past year. It's really never boring and I love it!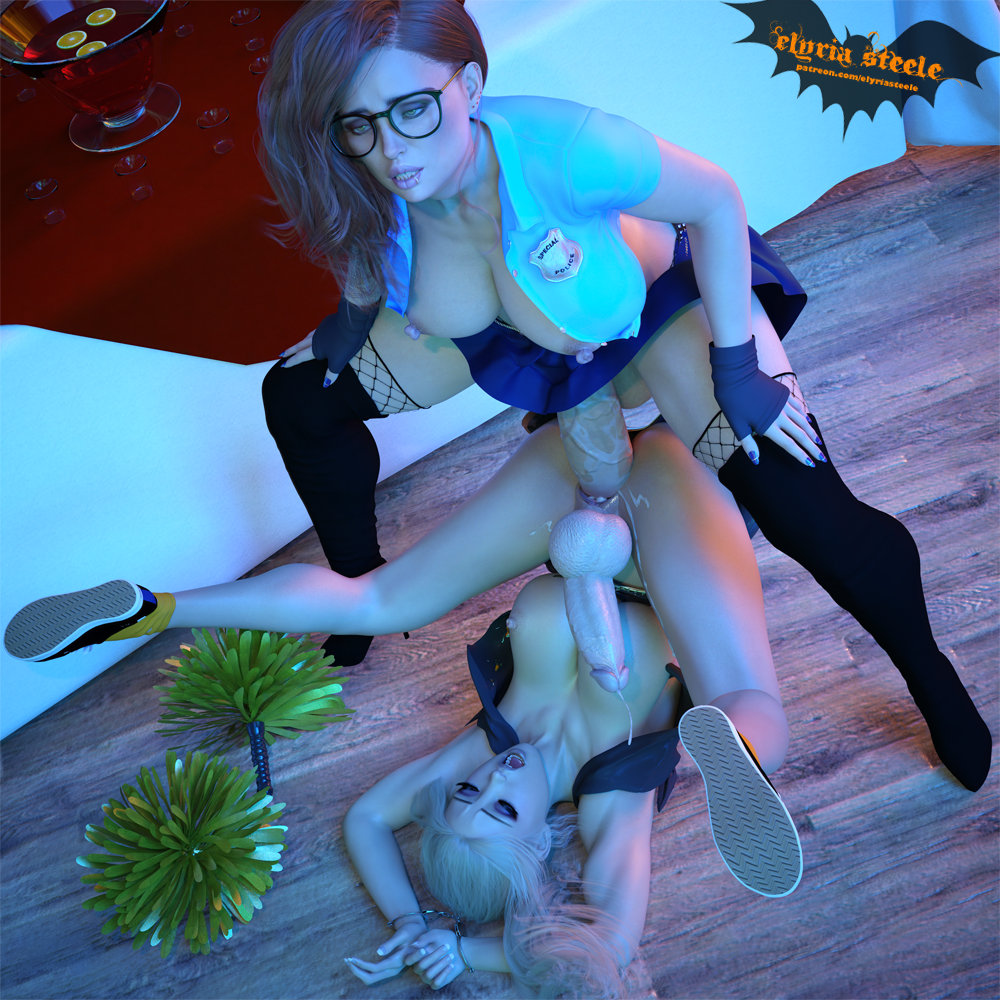 Have any of those commission elements been particularly inspirational to you? Anything you want to explore further?
Well, I'm always thrilled when I finish a piece I wasn't really sure how it would turn out beforehand, and thinking it looks really good. I'd say there isn't a subject so much I'd like to follow up on so much as I'm always wanting to find really great ways of telling a story within the pictures of a set that feels exciting and pleasing to look at.
Do you have a favorite gothic band, book, or film?
I do like The Cure and though they're not really "goth", I enjoy Within Temptation a lot. I don't know if it's considered a goth movie, but I really enjoy 'Interview with a Vampire'.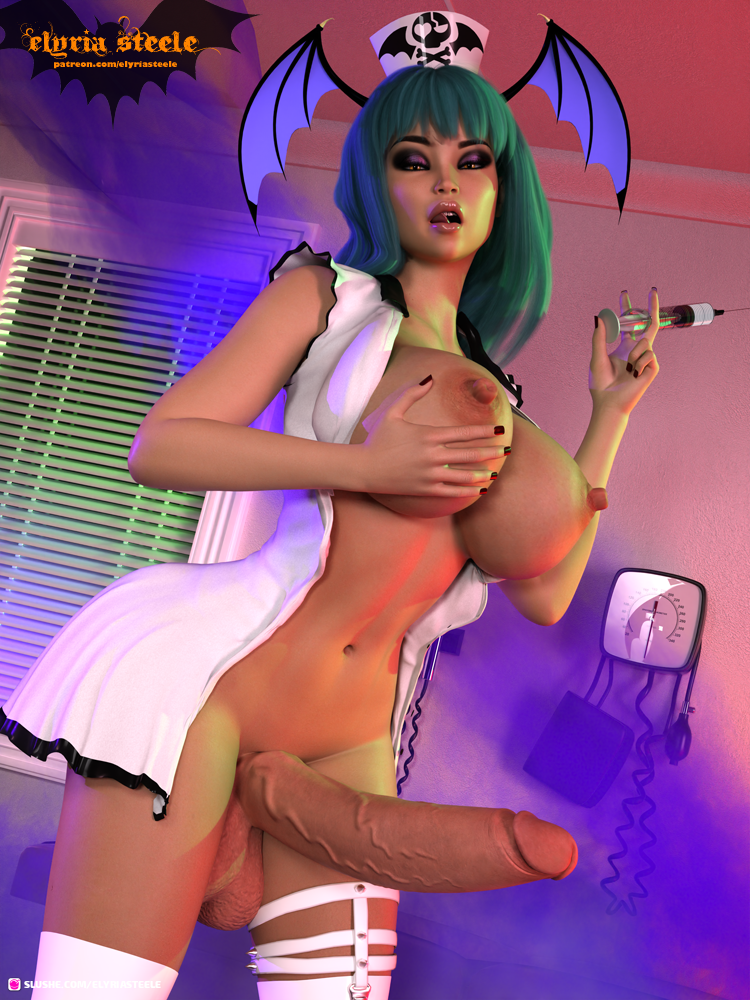 Anything else you'd like to add for your fans?
Just that I'm so thankful for them! Without them I wouldn't be able to work in this amazing field and I love them for it!
-xoxo Elyria
Thanks again for the interview Elyria! We all loved your submission to the goth art contest, and look forward to seeing all your future works! Slusheans, if you haven't followed Elyria Steele already, please check out her gallery here on Slushe! If you like what you see, please consider supporting her on Patreon or checking out her published erotic novels.
Do you want to add items to list ?